TS 16v Head
The TS head is quite good.
It's a kind of mix of the Honda D16 and B16A heads: chamber like in D16 and ports like in B16A.
Unlike Honda heads the Alfa ones are not well finished.
A number of good points is there:
Big valves: 33.5mm and 28mm (82mm bore) with 7mm stems
75/45/15 angle seats (it's not ideal but good for an AlFiat stock engine)
Low angle intake and exhaust ports
Large quench areas
Valve guides not exposed in the ports
Negative points:
Sharp edges on quench areas
Valves shrouded by the chamber walls
Square edge (not rounded) chamber roof (where the small spark plug is located)
Imprecise valve seat installation
Rough bowl finishing
A too sharp intake port short turn radius
No oil restrictor for the head
Chambers, 82 mm bore, 47 degrees between valves, 26 deg intake, 21 deg exhaust
Comparison with the Honda D16 and B16A heads (picture from the ENDYN page)
On the ENDYN's D16 head all valves were unshrouded as valves are too close to the walls.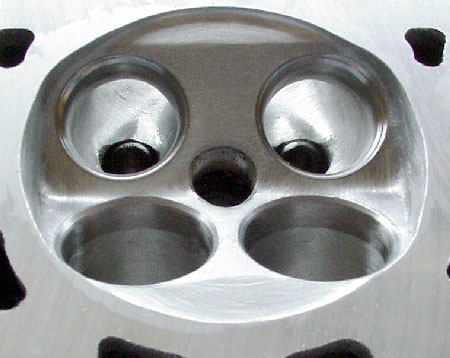 B16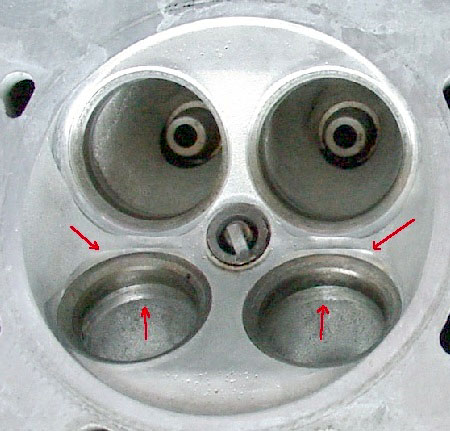 Seats, 3 angle 75/45/15
Intake ports
The pictures show how sharp is the short turn radius of the intake ports

The long section between the bowl and port entry is straight and of right diameter

Exhaust ports
Exhaust ports are excellent but the bowl area was smashed during the seat installation process

Note that there is a water passage inside the port divider
The divider is offset in the port, like on B16A heads.
Intake valves 33.5 mm x 7 with a waisted stem
Exhaust valves 28 mm x 7, not sodium filled
Intake runners
Intake runner output is excessively rounded, its section is bigger than the intake port size